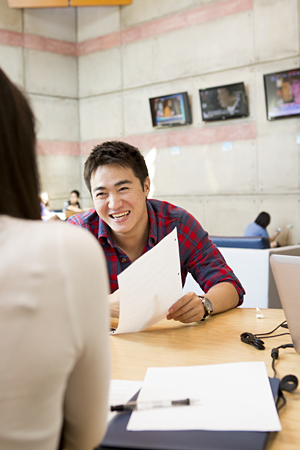 Drop-in scholarship counseling
Have general questions about the scholarship process? Want to browse our library of scholarship resources? Feel free to drop in whenever the SRC is open!
Scholarship books and resources
Don't limit your scholarship search to the web! Browse the SRC's extensive library of scholarship books, notebooks of scholarship listings, resource guides, and bulletin boards. Stop by any time the SRC is open!
Individual Counseling
Have specific questions about a particular scholarship application? Not sure where to begin? Need help developing a realistic scholarship application schedule? Call us at (310) 206-2875 to make an appointment.
Scholarship essay writing support
Need to brainstorm ideas for a scholarship essay? Having trouble with your outline? Need help polishing your draft? Call us at (310) 206-2875 to make a 30-minute writing appointment.
Proofreading
Does your scholarship essay or application need one final proofreading before you send it out? Call (310) 206-2875 to make a proofreading appointment.
Quarterly workshops
Need help getting started with the scholarship process? Looking for tried-and-true tips and tricks for requesting letters of recommendation, writing personal statements, and more? Attend one (or several) of our quarterly scholarship workshops.
To make a 30-minute writing appointment, call us at: (310) 206-2875
For general inquiries, counseling, or for more resources, stop by our office at:
Scholarship Resource Center
233 Covel Commons
Los Angeles, CA 90095-7247