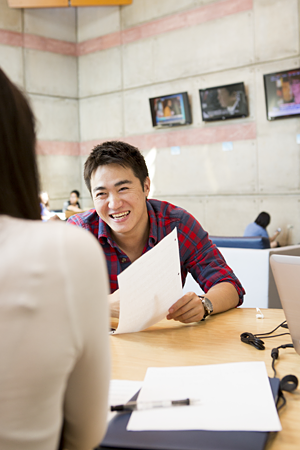 If you have not done so already, please watch our scholarship introduction workshop "Secrets to Winning College Cash I" before meeting with us. You may view the workshop here.
Making Contact with our Counselors:
For initial questions and concerns, please contact us using Message Center. An advisor will reply to your inquiry within two business days.
In-Person Services:
We  offer brief question-and-answer services in person at our office, 233 Covel Commons on Tuesdays, Wednesdays and Thursdays. We are offering virtual services (including workshops and Zoom appointments) on Mondays and Fridays.
For in-depth questions and writing assistance, please schedule an online appointment with us.
Writing Support:
Book writing appointments here.
We advise students to attend a Personal Statement Workshop prior to booking a 1:1 writing appointment. You will be prompted to upload your draft after booking your appointment.
Policies: Due to the limited availability of appointments, we ask you only to book one appointment at a time. If you have more than two no-shows or late cancellations (under 24 hours notice), you will not be able to book appointments for a period of two weeks.
Workshops:
We offer workshops (mainly via Zoom but some in person) on various topics in the scholarship process, including how to search and apply (Secrets to Winning College Cash Parts I and II), how to ask for letters of recommendation, and how to draft effective personal statements. Throughout the year we will also offer specialized workshops related to specific scholarships. You can see our workshop listings here and enroll via my.ucla.edu. Registration is required and is restricted to students.
Please Note: We are offering students the choice to conduct advising via video-conference on Zoom but must convey that this method makes ensuring FERPA privacy difficult. Our Student Affairs Advisors will conduct video advising in a private location, and we recommend that students do the same to limit the amount of information that could be overheard by others in the vicinity. By agreeing to video-conference advising, students confirm they understand this situation.